NMIMS
A globally reputed and leading name for Management education in India. Best known for its MBA/PGDM programme.
Symbiosis Pune
Symbiosis International is awarded Category-I status by UGC and an 'A' grade by NAAC with a score 3.58 on 4.
Amity University
Amity University is India's leading research and innovation-driven private university. It offers various programmes suitable for you.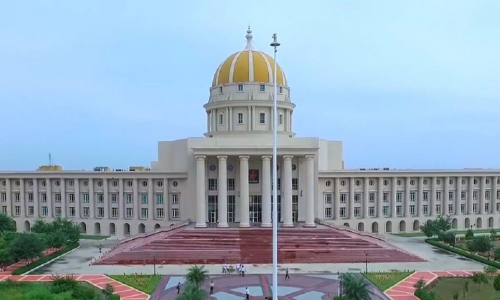 Manipal University Jaipur
Manipal University Jaipur is recognized by the UGC as a private university and they are approved by AICTE, BCI and COA.
Chandigarh University
It is 'A+' Grade by NAAC. It is approved by UGC and the AICTE. It has also received a major certification with QS I GAUGE E-LEAD.
IMT Ghaziabad
This business school is approved by AICTE and has ranked 1st among India's Top 100 Business Schools. It collaborates with IMT, Dubai.
ICFAI University
ICFAI University has 11 campuses across India offering UG and PG programs in Management, Engineering, Science, Arts, and Commerce.
| University Details | NMIMS University | Symbiosis | Amity University | Manipal University -Jaipur | Chandigarh University | IMT Ghaziabad | ICFAI University |
| --- | --- | --- | --- | --- | --- | --- | --- |
| Degree Offered | MBA, MSc, BBA, BCom | PGDBA | MBA, BBA, BCA, B. COM | MBA, BBA, BCA, MCA | MBA, BBA, BCA | PGDM | MBA |
| University Since | 1994 | 2001 | 2005 | 1953 | 2012 | 1980 | 1984 |
| University Since in Online/Distance Education | 2001 | 2001 | | 2020 | 2020 | | 2001 |
| NAAC Approved | Yes | No | Yes | Yes | Yes | No | Yes |
| NAAC Score | 3.59 (A+) | | A+ (NA) | A+(3.28) | A+(3.28) | | A+(3.43) |
| UGC Approved | Yes | No | Yes | Yes | Yes | No | Yes |
| Online Flexible Learning | Yes | Yes | Yes | Yes | Yes | Yes | Yes |
| Students support system | Yes | Yes | Yes | No | No | Yes | No |
| Live Online Lectures | Yes | Yes | Yes | No | No | Yes | No |
| Recorded Lectures | Yes | Yes | Yes | Yes | Yes | Yes | Yes |
| Online Exams | Yes | Yes | Yes | Yes | Yes | Yes | Yes |
| Student Service Call Center Number | Yes | No | Yes | No | No | Yes | Yes |
| placement assistance | yes | yes | yes | yes | No | yes | yes |
| Regional office presence | yes | No | No | No | No | No | No |
| Pan India support Network | Yes | No | No | No | No | No | No |
| Pan India exam centers | Yes | Yes | No | No | No | No | No |
| Interest free loan facility | yes | No | No | No | No | No | No |
| E library | yes | No | No | No | No | No | No |